At Infixia, you will be able to avail the latest and efficient web development services. The experienced team has a sharp edge over others as they extract web projects for different type of website requirement.
Our team of web developers has enough resources for yielding better than expected results for complex website requirements.
Highlights of our web development services are
Our solutions let you choose from a wide array of professionally developed templates or create your own content. You would get the website mailed to you instantly upon completion of the project. The team's experience would be clearly visible in the quality of the work produced. Total front-end and back-end development is provided by us which would be based on the current technologies and trends in the industry.
You would be able to provide best solutions and thus enhance customer relations. That would lead to increased revenue-earning opportunities and would give your business the much-needed competitive edge.
E – commerce Development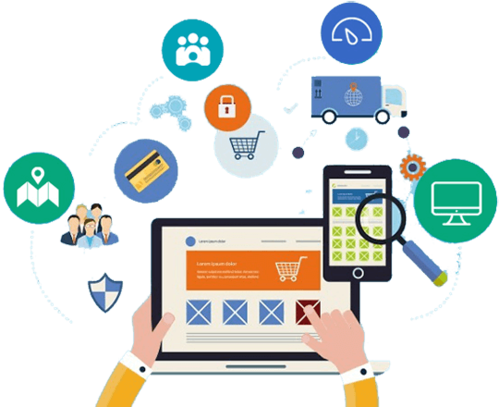 We are geared up to provide expert services in CMS platforms like woocommerce, magento, nopcommerce. We have sufficient experience in working on multiple versions such as 4.x to 5.x of PHP. We have created many websites with PHP which includes community websites, content management systems, e-learning softwares, document management systems and way more. The PHP experts associated with our team have formidable experience in the database layer development with FileMaker, Mysql, SQL Server which would build 2 tier and 3 tier web applications.
Many high-quality internet applications have been developed by us with PHP which have used HTML5, JavaScript, AJAX, JQuery, Node.JS, extJS, MooTools. Popular CMS platforms like WordPress, Joomla, Drupal are also worked with at Infinix. Our expert developers are also experienced in working with frameworks such as Laravel, Codelgniter, Zend, YII, MongoDB, Node.JS.